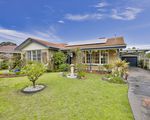 14 Kitson Road Auction Sale
Dear Chris,
I thank you for the professional handling of the sale of Mum's property through auction yesterday. We are extremely happy with the positive outcome of the sale despite the sad emotions attached to letting the family home go.
You and the team did a remarkable job since we signed with you some 8 weeks ago. Your focused approach and guidance through the well structured campaign coupled with good timing and a sprinkling of luck provided the positive result. 90% of the success must be attributed to your planning leading up to the auction.
I am so pleased that the property that was sold to Mum and Dad back in 1991 by your dad Nick was then resold 28 years later by you Chris - it's a wonderful story / outcome for both our families. You are a well rounded human being that will make your dad smile from above and give your mum much pride, the real estate game can harden people - you my friend have a wonderful blend of empathy and understanding that will keep you on the path of true success for years to come.
Once again, a huge thanks from our family to you and the team for the impressive result delivered at yesterday's auction.
Our warmest wishes and appreciation.
Gav
Gavin
- Gavin - Clayton South 3169